Hi, I am currently working on developing a SolidWorks connector. I have successfully sent a stream to the Speckle server. However, I have some issues and ideas for my next steps.
Depolyment
In general, I can create an MSI package that users can install on their computer. But this is not a good choice because Speckle Manager is awesome. So, I want to integrate with it. I found it at AvaloniaUI Showcase, but I cannot find its source repository. Maybe it is not an open-source project? Can anyone help me with this? Registering a SolidWorks add-in requires admin privileges. Can I move my repos to Speckle Systems org so that more users can see it?
Schema
I have looked at the repository Speckle-Sharp and the developer docs. I found that Speckle depends on a JSON-based schema for different 3D software. In mechanical engineering 3D software, there are part documents, assembly documents, and drawing documents. There may be some differences in Autodesk Inventor or Siemens UG NX. Some other 3D software contains sheet metal documents, etc. I designed a simple schema tree based on SolidWorks, and there is some code about these objects.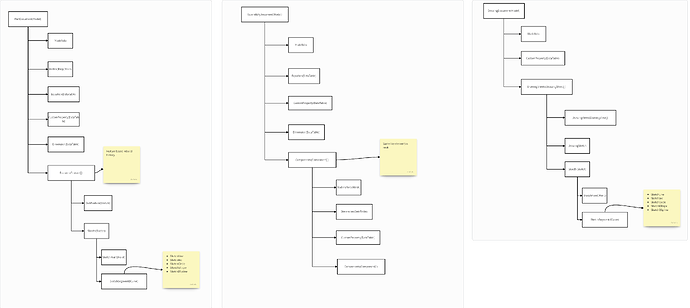 Brep
I am constructing a Brep object and I want to know if there is some detailed information about Brep objects in Speckle-Sharp. Is it possible to convert a Brep object to *.step or *.iges format?
CSG
There is a post about this. SolidWorks and other mechanical engineering 3D software. It is important that a solid model can guide the manufacturing process. But it's not easy to support this feature. Maybe a solid kernel such as OCC is needed.
Other connectors
Speckle is an awesome platform for users to share 3D data. Mechanical engineering also needs this. There are some 3D design or simulation software waiting for integration. There is a workflow such as designing in SolidWorks and then exporting to COMSOL for simulation. Maybe i can contribute an inventor connector or comsol connector if i have free time.
Autodesk Inventor
Ug nx
Creo
Comsol
Ansys
Hyperworks
Other related posts
Solidworks - New Connector Request - Solidworks - Features & Ideas - Speckle Community
New Connector Request - Solidworks - Features & Ideas - Speckle Community