Dear Sir or Madam,
In the last few months, I have discovered different showcases of integrating Speckle in a BIM workflow. As a student, I am currently working on thesis research about the development of Digital Twins. The aim of this study is to discover new workflows which could significantly improve the level of detail and location recognition inside the current Digital Twin. The findings and new research results will be shared in a publication and presentation. This thesis will be the final project to complete my higher vocational education in Architecture and Construction Engineering.
Objective
The past few days I am working on a QGIS to Blender workflow, where the Speckle connectors play an important key role in facilitating data transfer. The aim of this pilot project is to transfer geometry and metadata from a public dataset in QGIS to Blender via Speckle. I hope to achieve a workflow which makes it possible to create 3D object from 2D points in Blender. The 2D areas and point will be used in a visual script from geometry nodes. The script will eventually remove all the repetitive tasks in this workflow.
In QGIS I imported and edited a public dataset from the Dutch platform PDOK. The vector layer contains geometry and metadata from a part of road. The vector layer is inside QGIS exported as a shape file and dxf file. The CRS of this file in QGIS is set on Amersfoort / RD New EPSG 28992.
Issue
At the moment, the problems start to appear when I am receiving data from QGIS in Blender. Inside Blender I can easily load my commit with geometry from QGIS. This geometry is also visible inside the webviewer of Speckle. However, the geometry is not visible inside Blender. The received data from QGIS appears in a collection inside the Outliner Window of Blender. Important to mention is that the collection can be folded out into a large list of polygons.
Example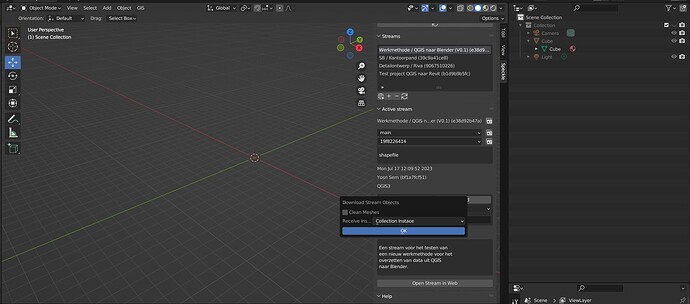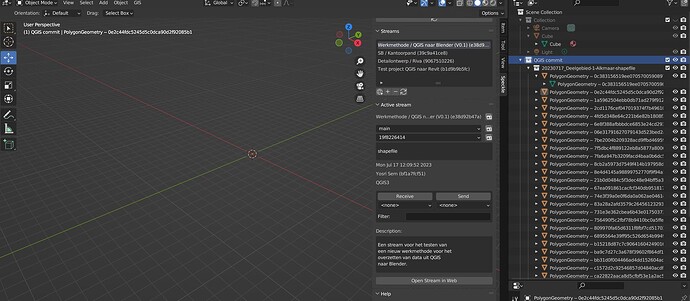 Desired solution
A workflow where GIS data can be easily imported into Blender via Speckle. Every application in these workflows needs to show the same geometry. Therefore, it is important to make the geometry visible in Blender.
I would highly appreciate your input on my thesis research and look forward to hearing from you at your earliest convenience.
Kind regards,
Yosri Sem