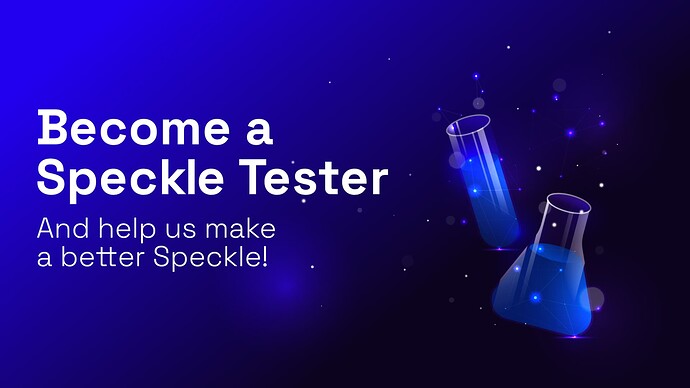 Hello @Community !
We are building Speckle for our industry at large and want everyone to have a say on our upcoming features, roadmap, and help us find any bugs that might slip into our releases.
From today, it'll be even easier for you to do so. We're going to trial a Speckle Tester Program!
Why Join the Speckle Tester Program?
By joining the tester program, you'll have a huge say in our upcoming features & releases and help us deliver a better Speckle!
Here's a summary:
get access to bleeding-edge releases
have a say on upcoming features before they are released
contribute to our roadmap
help us make a better speckle by finding bugs and issues
get dedicate support & 1-1 chats with our developers
How does the Speckle Tester Program work?
It's very simple: you'll get access to our bleeding-edge releases and will be able to use them to explore new versions before they make it into a stable release.
You can then report any findings, suggestions, or bugs on our forum.
Web & Server
For the web and server, you'll get access to our own testing instance. You'll need to create a new account for it and afterwards, you'll be able to use it exactly as our production server (which is available to everyone).

IMPORTANT


Do not use the test server in production, it's not being backed up and might suffer from downtime / data losses.
Connectors
You can already install beta versions of our connectors from Manager; see the instructions on our guide.
All our connectors provide a way to switch between accounts, so hopefully managing the production and test accounts won't be a pain

How To Join
To join the program, simply let us know by replying to this forum thread, we'll then send you an invite to our Testing Server.
Additional notes
Developers
If you're a developer, you might have already built all our source code from the latest main commits.
In any case, we'd love to hear from you too! Especially around the usability of our SDKs and APIs.
We're building Speckle for end-users and developers alike!
Roadmap & Changelog
Our roadmap and changelog are being regularly updated, you can check them out on the pages below:
Enterprise Deployments
We include a testing server in all our enterprise deployments, so you can of course use that instead of ours, as they are updated at the same time.
Just ask your internal Speckle person for access!