Hi all,
I've been exploring the data that is sent from a Revit model to Power BI.
The model is relatively small. Here's the breakdown of qunatity of rows per speckle_type: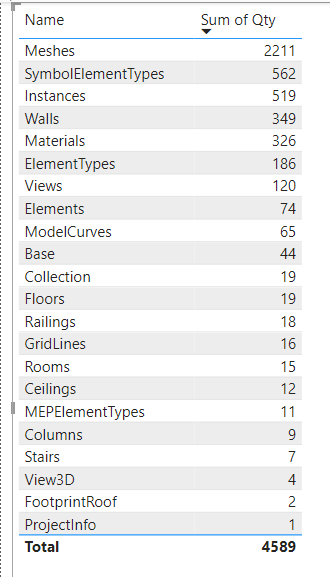 What I'm learning so far from this table is the following:
Meshes are by far the most common data type, almost half of all rows

This is the first time I've heard of SymbolElementTypes. In Power BI they actually appear as:
Objects.BuiltElements.Revit.RevitElementType:Objects.BuiltElements.Revit.RevitSymbolElementType
(I'm still wondering what exactly this is. I suppose that digging into it further will answer that question.)

The absence of data related to drawings, annotations, and model warnings
I do see that there are views. But that's about it.
My first impression is that I can use this data for matters involving the 3D building information model, but not for things related to documentation. Am I correct?
It makes sense to me, since the building data is something that could be used in other softwares, whereas documentation data is probably not. But maybe it is there somewhere, and I just haven't found it yet.
I'm just getting familiarized with the data, and understanding the possibilities and limitations.
Any feedback or guidance is much appreciated!