Hi @Hussein_Hamed , this looks like the same error that other users have reported on a few connectors from an older release. Can you do the following:
share what version of the connector you have installed
close any software using Speckle
uninstall the current connector and then install the latest version
let us know if it's resolved!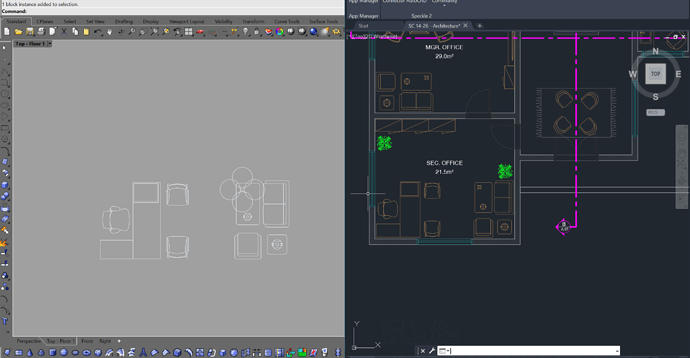 it worked but I got a a slightly different sofa, the sofa has a bottle that was constructed with 4 circles then trimmed to make it concave
but rhino ()
has read the history of it not the final block !
I have another inquiry , I have a floor plan with furniture as blocks, can I send all the file using speckle to rhino and will read Autocad blocks as rhino blocks and the usual lines and curves as rhino curves ?
because opening big DWG file in rhino is very hard and rhino can't handle it well
Is this a dynamic block? Currently those are not supported, you can keep an eye out for any developments on our support tables here
MMM you're right it a Dynamic block, I hope it could be supported soon
is there's anyway to change all dynamic blocks to static ones? to work with speckle
@clrkng