Hi all,
I am getting started with Speckle and I'm very excited to see what can be done on this platform!
I have made a very basic Revit model (and applied the analytical model) to try and export it to ETABS to familiarize myself with the process. I have created some columns, walls and a floor/slab. When I try and receive the model in ETABS the columns are there but walls and floors are not.
I noticed that when sending the model from Revit I get some errors: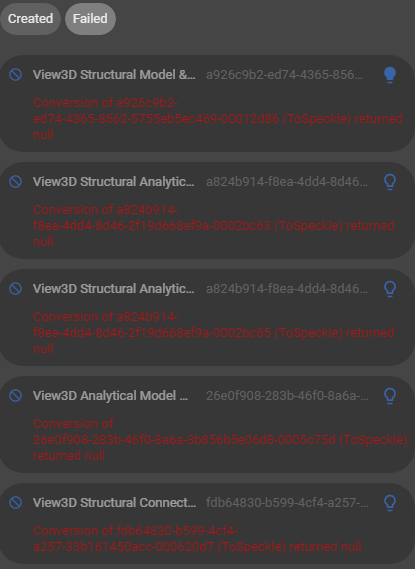 I'm not able to tell what kind of elements are failing to send, I assume the wall and floor elements.
Also, in my Revit model I have given the columns properties of a 450x450 square concrete column, however when ETABS receives these elements, they are imported with a default material property of a steel column.
My questions are:
How come wall and floors are not able to be sent from Revit? Is there a certain property or setting I need to apply in Revit for this to work?

Is applying default properties to column (or any other element) intended behaviour from Speckle? Or should properties translate between models? Also, if properties are not intended to be sent/received, is this something that can be solved with the Speckle API?
Would appreciate some help as I see huge potential benefit in this. Please let me know if there is any more info I need to provide.
Thanks!