Hello community & @Testers !
Worried about versioning clashes and working on stale data? Received receipts are an upcoming feature in Speckle that will allow you to have a better overview and control over who consumed what data, when and where.
How does it work? Every time someone receives a commit in AutoCAD, Grasshopper, or any other software served by a Speckle Connector, a received receipt will be created containing some basic information on who received the data, when, and where (e.g., Rhino, Revit, Autocad).
Now, when you'll head over to a branch's page, in the commit list you'll be able to see who received the data that you send out, and, at a glance, be able to tell whether they're possibly stuck on an old version!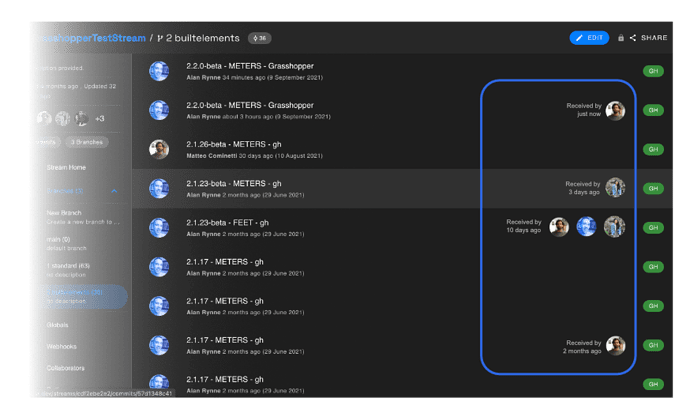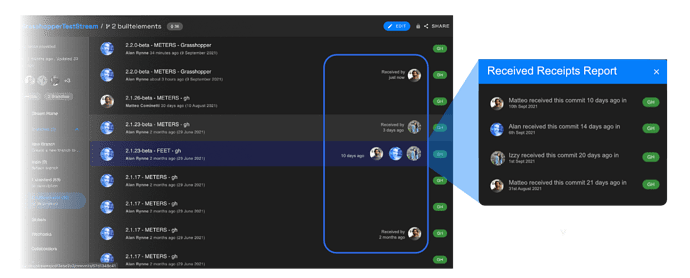 FAQ
Is any action required from me to create a Received Receipt?
No, the receipt will be created automatically the moment you receive the model using a Speckle connector.
Will it affect any existing functionality, like possibility to make commits?
No, the Received Receipts will only be there to inform you and your team of any potential versioning clashes.
Are all events of receiving the model recorded and displayed?
Not really. We won't track model loads in the online viewer, or if you will use custom scripts to pull the data down.
We would be exited to hear your feedback and see how this feature can be better tailored to the way you collaborate in Speckle!
P.S. tagging @Dickels112 and @DaanSchlosser as it might be the baby steps towards the suggestions you described in some earlier posts:)