Hi everybody,
Below I tried to explain my idea (and ideals) about version control and I hope it's clear what I mean, and what I think is needed in terms of addition to Speckle

. (I searched around the forum for a similar topic but i couldn't find anything this specific).
I'd like to be able to use version control in the Speckle environment to keep track of which version each commit is, for example P00.01, P00.02, P01, P01.01, etc.
I think that this is needed to be able to easiliy communicatie about different versions and to ultimately split WIP information from SHARED information.
In order to use this I think three parts are needed:
Different roles in the Speckle environment, to control edit and read permissions, for example split into multiple Task Teams, where users can be assigned to.
A metadata attribute to my Speckle commit to indicate what version it is, and also what information state the information is, based on the ISO 19650-Series.
The ability to link different commits together to indicate that they are about the same information, but a different version (or is that the entire branch?).
At the moment I created four commits to my "ontwerpuitgangspunten" (design principles) stream and named them by hand: P00.01, P00.02, P00.03, P01. See my snippet below: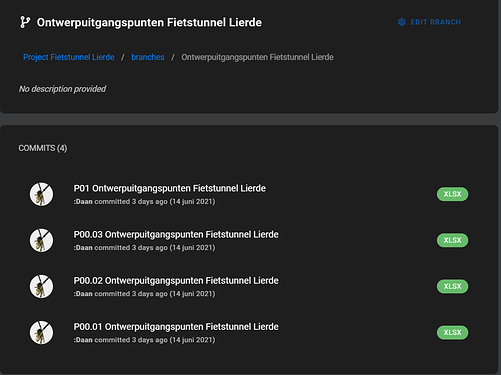 In my final "solution" i would like to have the possibility to (automatically) add metadata values such as my version and the corresponding information state (WIP, SHARED, PUBLISHED or ARCHIVED) to manage the read and write permissions for each commit.
I wouldn't know if one should program this themselves or if it could be implemented across Speckle as a whole, but this is my first step in this process

Kind Regards,
Daan