Since today I get some errors when starting GH. This results in the Speckle 2.0 toolbar being quite empty. I tried the following steps: uninstall GH connector, start GH, close GH, and reinstall. No luck so far.
I've added a Screenshot of the toolbar. Plus GH loading errors log (in quotes, not sure if this is the ideal way to do that? EDIT: thank you Matteo for adding it as code block).
Any ideas on what I could do or test?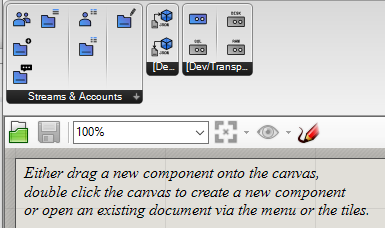 Object: ToNativeConverterAsync (level 1)
{
  Exception has been thrown by the target of an invocation.
  TargetInvocationException
}
Object: ToNativeConverterAsync (level 2)
{
  Object reference not set to an instance of an object.
  NullReferenceException
}
Object: ToSpeckleConverterAsync (level 1)
{
  Exception has been thrown by the target of an invocation.
  TargetInvocationException
}
Object: ToSpeckleConverterAsync (level 2)
{
  Object reference not set to an instance of an object.
  NullReferenceException
}
Object: GetObjectValueByKeyAsync (level 1)
{
  Exception has been thrown by the target of an invocation.
  TargetInvocationException
}
Object: GetObjectValueByKeyAsync (level 2)
{
  Object reference not set to an instance of an object.
  NullReferenceException
}
Object: GetObjectValueByKey (level 1)
{
  Exception has been thrown by the target of an invocation.
  TargetInvocationException
}
Object: GetObjectValueByKey (level 2)
{
  Object reference not set to an instance of an object.
  NullReferenceException
}
Object: ExtendSpeckleObjectAsync (level 1)
{
  Exception has been thrown by the target of an invocation.
  TargetInvocationException
}
Object: ExtendSpeckleObjectAsync (level 2)
{
  Object reference not set to an instance of an object.
  NullReferenceException
}
Object: ExtendSpeckleObject (level 1)
{
  Exception has been thrown by the target of an invocation.
  TargetInvocationException
}
Object: ExtendSpeckleObject (level 2)
{
  Object reference not set to an instance of an object.
  NullReferenceException
}
Object: ExpandSpeckleObjectAsync (level 1)
{
  Exception has been thrown by the target of an invocation.
  TargetInvocationException
}
Object: ExpandSpeckleObjectAsync (level 2)
{
  Object reference not set to an instance of an object.
  NullReferenceException
}
Object: ExpandSpeckleObject (level 1)
{
  Exception has been thrown by the target of an invocation.
  TargetInvocationException
}
Object: ExpandSpeckleObject (level 2)
{
  Object reference not set to an instance of an object.
  NullReferenceException
}
Object: CreateSpeckleObjectByKeyValue (level 1)
{
  Exception has been thrown by the target of an invocation.
  TargetInvocationException
}
Object: CreateSpeckleObjectByKeyValue (level 2)
{
  Object reference not set to an instance of an object.
  NullReferenceException
}
Object: CreateSpeckleObjectByKeyValueAsync (level 1)
{
  Exception has been thrown by the target of an invocation.
  TargetInvocationException
}
Object: CreateSpeckleObjectByKeyValueAsync (level 2)
{
  Object reference not set to an instance of an object.
  NullReferenceException
}
Object: CreateSpeckleObjectAsync (level 1)
{
  Exception has been thrown by the target of an invocation.
  TargetInvocationException
}
Object: CreateSpeckleObjectAsync (level 2)
{
  Object reference not set to an instance of an object.
  NullReferenceException
}
Object: SendComponent (level 1)
{
  Exception has been thrown by the target of an invocation.
  TargetInvocationException
}
Object: SendComponent (level 2)
{
  Object reference not set to an instance of an object.
  NullReferenceException
}
Object: ReceiveComponent (level 1)
{
  Exception has been thrown by the target of an invocation.
  TargetInvocationException
}
Object: ReceiveComponent (level 2)
{
  Object reference not set to an instance of an object.
  NullReferenceException
}
Object: SendLocalComponent (level 1)
{
  Exception has been thrown by the target of an invocation.
  TargetInvocationException
}
Object: SendLocalComponent (level 2)
{
  Object reference not set to an instance of an object.
  NullReferenceException
}
Object: ReceiveLocalComponent (level 1)
{
  Exception has been thrown by the target of an invocation.
  TargetInvocationException
}
Object: ReceiveLocalComponent (level 2)
{
  Object reference not set to an instance of an object.
  NullReferenceException
}
Object: CreateSpeckleObject (level 1)
{
  Exception has been thrown by the target of an invocation.
  TargetInvocationException
}
Object: CreateSpeckleObject (level 2)
{
  Object reference not set to an instance of an object.
  NullReferenceException
}
Object: CreateSchemaObject (level 1)
{
  Exception has been thrown by the target of an invocation.
  TargetInvocationException
}
Object: CreateSchemaObject (level 2)
{
  Object reference not set to an instance of an object.
  NullReferenceException
}