Hi all,
I'm wondering how I can access certain object data within the unity connector.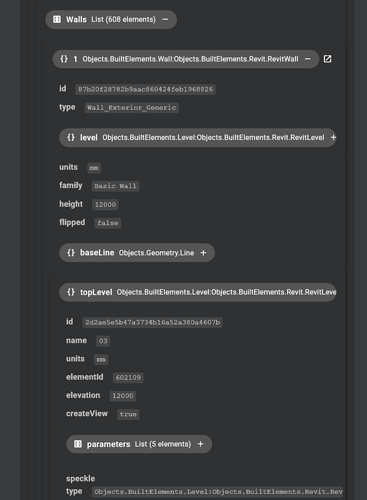 The data that I want to get is this Level component, and I can clearly see it within the stream objects.
But from within Unity, I'm not certain how I can access this.
I thought that it would be as a <string, object> pair in the SpeckleData.Data dictionary. I would have expected this to contain the properties that I'm trying to get, but when I debug, most of the time data is empty, or just contains the render material.


I tried to take a dive into the unity connector code, and I think the SpeckleData is created from this Base object. But I've got no further with that.
I'm using the latest unity connector for v2 speckle, I'm not sure if this is implemented yet, or if there is some bug, or perhaps I'm looking at the wrong things.
Any help with this would be greatly appreciated.