So in the Unity plugin, I've added the following dlls to support structural object types and ignored the revit and gsa specific assemblies because I just what the general structural data objects:

When I get this stream (BCiZ-ggPn):

My Unity code is able to parse the layer heirarchy just fine but it is only able to convert the nodes and 1D element poly lines: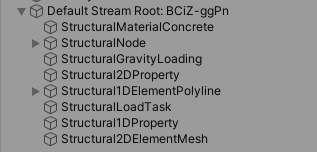 Notice how all the other layers are empty. This is because for each of those structural types the conversion fails. Aside from Structural2DElementMeshes, the other types inherit straight from SpeckleObject and I have no explicit native conversion for them. If I add the GSA and GSAInterfaces dlls the conversion still fails in the same way even though the stream is a GSA stream.
I can live with the non visual objects being unable to convert but the main problem for me is that the Structural2DElementMeshes aren't converting because they are visible meshes that need to be rendered. Structural2DElementMesh inherits from SpeckleMesh which I have a conversion for just like I do with lines and points but I'm not getting any feedback on how this failure can be fixed.
I even tried adding an explicit conversion for it like how Unity handles breps:

But that didn't work and the points and polylines didn't need any extra code written to work anyway.
Thoughts?