Highlighted Features: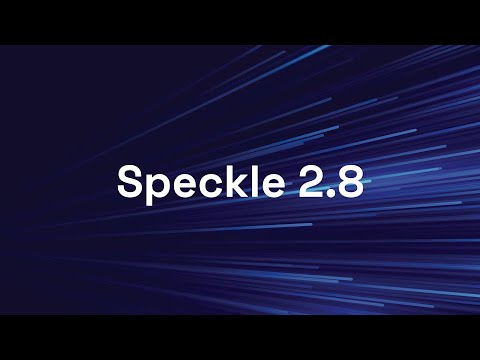 Get started with Speckle 2.8 Now!
Speckle 2.8 Updates:
Revit
Incremental Builds while receiving
Interactive Reports
BIM Mappings from ETABS/Tekla Structures to Revit
Various bug fixes
PowerBI
3D Viewer now available inside PowerBI!
Rhino
Preview send and receive geometry
Interactive reports
Rhino BIM now supports sending breps and subd meshes as Topography
User dictionaries changed from dictionaries to Base
AutoCAD & Civil3D
Distorted mesh bug fixed
Sending proxy entities now supported (props only)
New advanced setting: Reference points (WCS/UCS)
Property sets now included when receiving
Grasshopper
Added support for the receiver to fetch public streams with an old account
Unreal Engine
Speckle connector now available at the Epic Marketplace
Unity
BIM properties are now available in the editor UI
Improved sending to support nested objects
Tekla Structures
Performance Improvements and various bug fixes
BIM Mappings from ETABS/Tekla Structures to Revit
CSI Products
Performance Improvements: model tolerance
Support for updating existing elements now enabled for CSI connectors
ArcGIS Alpha!
Support for sending/receiving of most geometry types (Point, Multipoint, Polyline & Polygon) in ArcGIS
Support for receiving base geometry from CAD
Sketchup
Support for Coplanar faces
Desktop User Interface
Added support for report filters by object status
Server & Web
Added support for stream discoverabilities for users to find new public stream
3D comments in presentation mode
Users now get notified via email when they get mentioned in a 3D comment