Hello Speckle community,
I am developing a developing a plug-in for Revit, utilizing Speckle Core. Through the plug-in, I'm connecting to the speckle manager to get the accounts / default account, get its streams and get the objects of the selected stream to show in a WPF window. Even though I have built the standalone version of it and it's working just fine, I encounter the following issue when I'm trying to integrate the solution into Revit: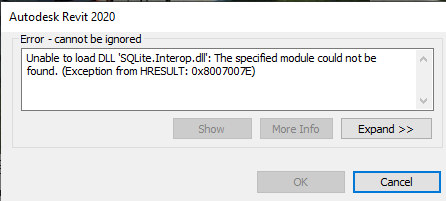 I've tried running the GetAccounts method by themselves via Revit and the issue still persists. I have also tried adding additional SQL / SQLite references to the project via NuGet, however I'm not able to resolve the issue. The installed packages are the ones listed below:

Is there any solutions to this issue or any directives?
Thank you in advance.