Hi all,
I'm new to this forum and to speckle and walked into my first issue.
When opening two Revit projects at the same time Revit gives an unrecoverable error and just shuts down.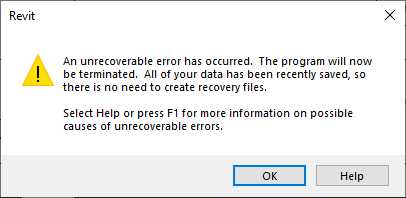 I did some troubleshooting yesterday via de steps in this thread from autodesk:
When I got to disable add-ins I uninstalled the speckle for Revit add-in and then things worked again as it should. This morning I reinstalled speckle for Revit because there was a new release yesterday but it crashes again when opening 2 projects at the same time.
So my guess is that it is an issues with Speckle.
Is this a known issue? If yes, is there a workaround or a solution?
Thanks in advance,
Pim