For Speckle V1, we've made a Dynamo script to read family data in the Revit model and pour it in a stream so we could use it in GH. For Speckle V2, this is already provided by the Speckle Revit add-in, which is great!
A suggestion for improvement would be to also add other data to the Revit Families & Types filter (see Revit screenshot). When receiving this stream (stream 1 in GH), mainly the category, family and name are in the stream, but other interesting data (such as the width of a wall, which is part of the family type object in Revit) is not in that stream. When receiving a family instance in GH (stream 2 in GH), then it's possible to retrieve all this extra data.
In short, would it be possible to add more data to the Revit Families & Types selection filter?
Some consideration:
Add all available family data to the stream?
Or choose which families or data to send instead of sending everything?
Small remark, why do some family categories (like Structural Columns, Structural Framing and Windows) contain a renderMaterial and other families do not?
Revit: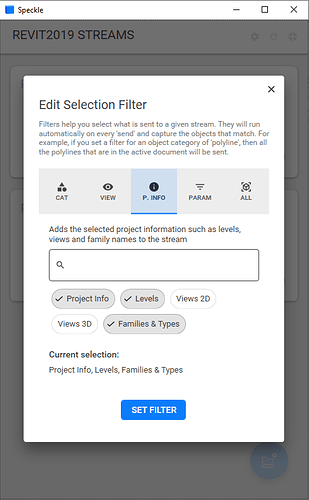 GH: