Hi everyone !
After some time I had some hours left to do some some further testing and I had a couple of discussions with some of our BIM modellers regarding openings/voids in floors and walls. It's already a major improvement Speckle 2.0 supports openings/voids, so keep up the good work

! However, we might have some additional requests.
In a traditional project we have specific methods according to our company's BIM standards to create openings/voids in floors and walls in Revit. The different situations are shown in the picture below on the left, which shows examples for a floor. It basically comes down to the following:
Big openings/atria: edit floor boundary sketch line
Openings at the edge: edit floor boundary sketch line
Repeating openings over height: use Shaft
Smaller (repeating) openings: use a Generic Model Opening family
In the current implementation in Speckle a Floor Opening Cut is used to create voids in floors, see right side of the image below. However, this is currently not according to our own BIM standards.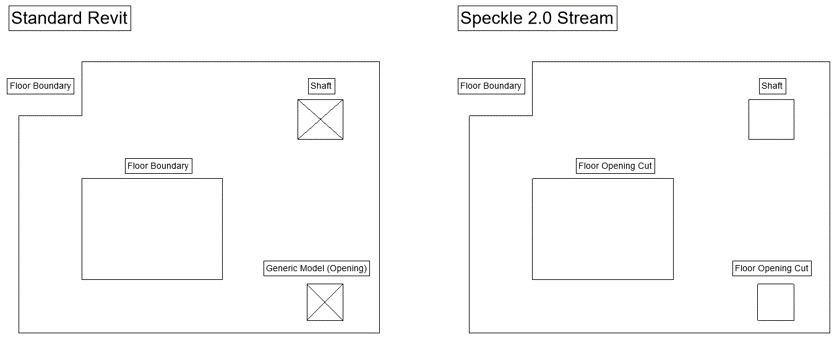 For Walls the RevitWallOpening component was released recently, using a similar method to create openings in walls. In our own BIM standards we usually use a Generic Model Opening family to create openings in walls. The major advantage is that you can create multiple instances of a type which increases the flexibility if you have to adjust the dimensions of a repeating opening in a later stage of the project. You can imagine that this saves a lot of time when designing a concrete core of a high-rise building.
Basically it comes down to a couple of questions from our side:
Is there a possibility to implement support for openings by editing the floor boundary sketch line (method 1)? Speckle already recognizes this type of void when sending a floor with this type of void from Revit to Grasshopper. Below an image of an example in Revit.

I'm curious about your thoughts and suggestions

!