Hello, community,
I am creating a custom object in the Object Kit that we want to use in grasshopper.
For testing, I firstly receive the stream from speckle and then deconstruct the speckle object, to feed in the correct attributes to the created scheme object component. Then I get an error when assigning one attribute as is shown below. The error message is 'Value cannot be null. Parameter name: elementType.'


I did some debugging and then found that this happens in the GetObjectListProp function in CreateSchemaObject.cs. In this case, the demands of Typology should be a list of Parameters (Objects\Objects\BuiltElements\Revit\Parameter.cs), then it tries to create all the objects in the list. But in this case, the listElementType will result in null, because t doesn't have ElementType.



To see if this is an error from my custom class, I tested with roofs (Objects\Objects\BuiltElements\Roof.cs) in the grasshopper use both the native component and the schema object component. I got the same error.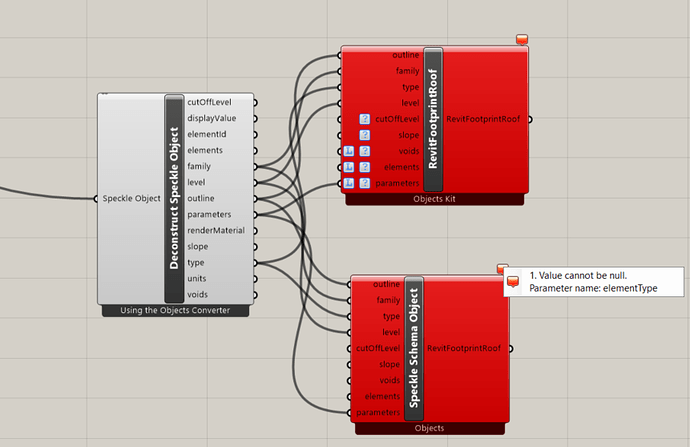 I'm actually not sure how to solve this issue because I'm not familiar with Object kit nor c# actually😅 Hope you guys can give some help or guidance, thanks!