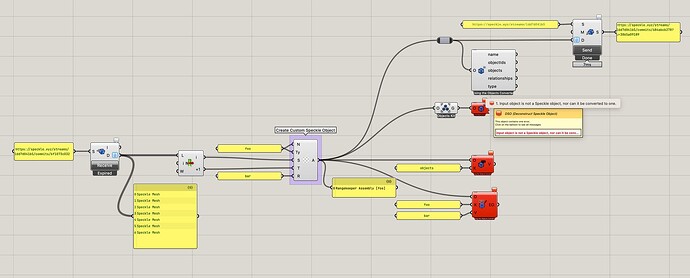 My aim is to create a very simple custom Speckle Object that can interact with the existing Speckle GH Components, like Extend Speckle Object, or Speckle Object Keys, etc.
I can define, create, and send the object to a Stream just fine.
I can also use the Deconstruct Speckle Object Component.
However things break when using some other GH Components.
Correct me if I'm wrong, but I believe it is because these components try to either a) check if an incoming object is/casts to a GH_SpeckleBase and then grab its .Value, or b) use a Converter, which has to implement ISpeckleConverter?
I don't think I can implement a CastTo<GH_SpeckleBase> in my GH_Goo wrapper because that lies in the GrasshopperConnector, correct? The best I could do is cast to GH_Goo<Base> I believe
Do I have to implement a whole ISpeckleConverter then? If so, how do the Speckle GH Components know how to seek those methods? (ie, how should the project structure look?)
Alternately, is there a reason why those GH Components need to check for input objects being GH_SpeckleBase, and not just GH_Goo<Base>?