Hi all,
I've been playing along with the powerBI connection but have encountered a few roadblocks.
First, I cannot seem to color the model based on parameters that are not nested (ex. ObjectID) or multi-nested. I have only managed to generate color using parameters that are singly-nested. Am I missing something? Is there a workaround?
https://speckle.xyz/streams/5faca2efb2
PB_Test1.pbix (1.6 MB)
I am also getting overlapping color artifacts for certain parameters, despite elements not overlapping in the model.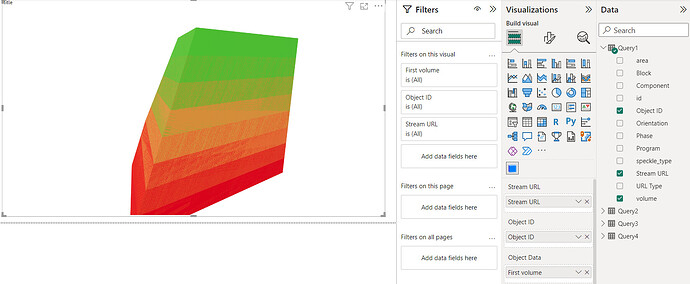 Finally, the bi-directional behavior has only been working for certain parameters, like Id, but not for others, like area or volume (these also trigger the overlap artifacts so they might be connected)
Some notes:
I uploaded to speckle from rhino
I am trying to access user strings set in rhino, which are doubly nested (data>userStrings>[Values])
I appreciate any input on these subjects!
Thanks