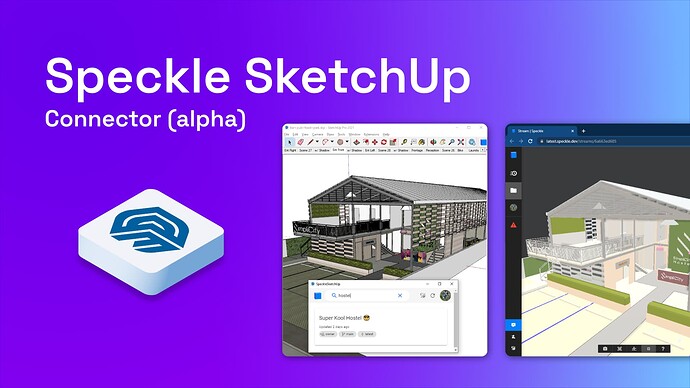 Hello everybody,
I am hyped to share with you guys an early alpha build of our new connector for SketchUp 2021!
Wanna get your SketchUp model into Speckle Land? Bam

How about Rhino geometry into SketchUp? Whoosh

SketchUp back to SketchUp? Well… I'm still working on that

The current state of affairs:
Sending out (including groups and components which get converted into Speckle Blocks) is pretty well supported.
Receiving SketchUp geometry is best supported in Rhino, Unreal, and AutoCAD (the places where Speckle Blocks are best supported).
Receiving into SketchUp is unreliable: meshes are generally well supported (so Revit, Blender, etc into SketchUp is ez pz) but Blocks are not yet fully supported. Simple blocks should come in, but very nested blocks (which SketchUp likes to produce) will often not work as expected.
UPDATE: as of v2.0.5, receiving back into SketchUp should work as expected . Note that groups will be received back into SketchUp as component instances.
The connector is a work in progress, but it would be super helpful to get feedback and feature requests from you guys! I'd love to know what applications are the most important to you and what kind of workflows you imagine this fitting into.
Speckle SketchUp is available now from Speckle Manager! Check out our "getting started" post for the rundown on how it all works✨
Wanna get a bit more involved? Have a look at the repo: