Hi community,
I am trying to test out Speckle on my work computer, but I am facing issues in adding an account to the Speckle desktop manager.
I have tried adding an account from the desktop manager, it opens the browser where I am signed in and I then grant it permission, but it doesn't get recognized in the desktop manager.
When I try to add the account from the web app through "Add account to desktop manager" in my profile, nothing happens when I press the button there.
I had IT check it out but still no luck. We have done these steps but that didn't help:
• We have whitelisted the domains and subdomains as recommended in your FAQ
• We have stopped the firewall and the antivirus.
Here's a screen shot of the console if it helps: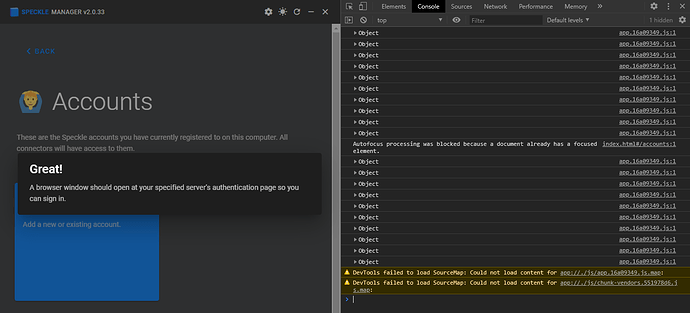 Thanks!